Shop – Made in Silimalombu
Welcome to our Webshop – (It is a draft and just an Example for an online Marketing)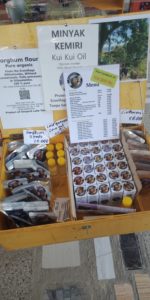 We offer you here products, made in Silimalombu.
In the time of Covid-19 we want to serve the customer now with the possibility of an online shopping for fruits, vegetables, eggs, animals, Bakery products, and of course also our other products, like the processed mango, the Candlenut oil, our tea blends and other products we make in Silimalombu.
The products soon will be integrated in the new shop which is organized from the new Regent Vandiko Gultom. This is a part of his first 100 days of his Regency.
Delivery for 15.000 Rp. each Saturday and Wednesday to Tuktuk, Ambarita, Tomok, Lontung, Tolping and Simmanindo
For more Background Information about our Shop, read here
Showing all 43 results
Cocoa bean products and Chocolate (2)

Coldpressed Oils (1)

Covid-19 Prevention (8)

Gift Card (1)

Grains (1)

Village Sigapiton Products (1)

Vouchers (3)

Handmade in Silimalombu (2)

Bakery products (2)

Uncategorized (7)

Animals and Animal Products (8)

Fruits and vegetables (9)

Mango Products (3)

spices (5)

Tea (3)

Public Viewing Silimalombu 28.11.22 Executive Package on the Stand up Paddle (SUP)

Rp

100.000 Add to cart