In the last ten years Ratnauli Gultom, a daughter of the King of Silimalombu started to built an Ecovillage. Her Vision is:
"I like, that around our house we find all the food, that we need to eat for us and our guests"
Today maybe already around 80 % is food from the land of the family. We invite our guests to our garden and to all the things we have and produce. You can come as a guest and you can get part of our family for the time of your stay. You can enjoy all our activities. Or you come with a group of people and celebrate a party here and we serve you. Or you come as a Volunteer for a minimum of 3 weeks.
For the guests we prepared a website and a booking system for you on Airbnb.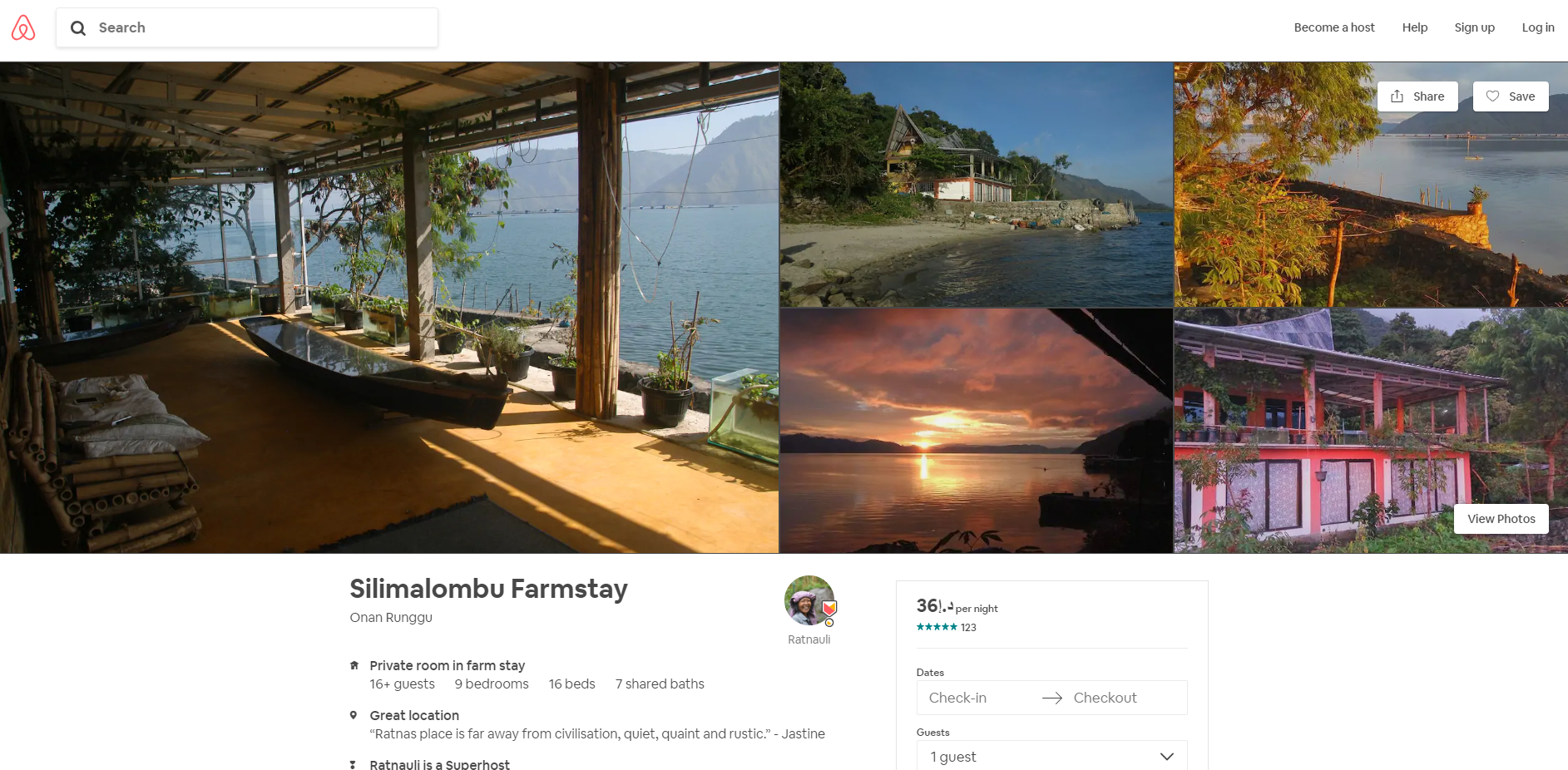 You find all our accommodation prices and availability there. If there is no availability shown, still you can ask us per phone (+6281260858209) or Whatsup: or send us an email. 
How to reach us, you can find the description on Wikitravel. Or you look on googlemaps. If you look for Volunteering then look here to the webpage of whoof (World wide opportunities on organic farms)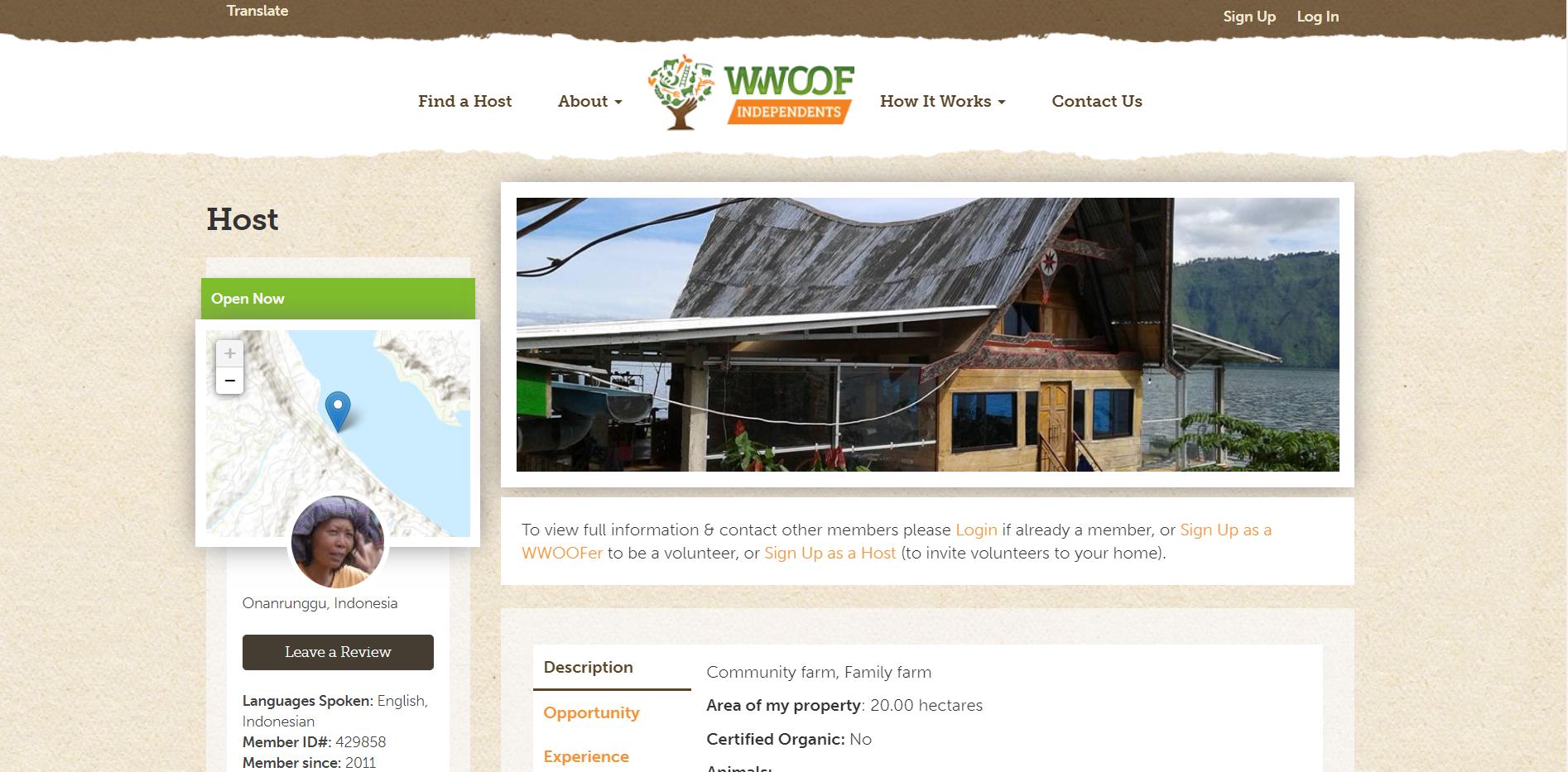 Description of the Farm
We have a unique traditional Batak farm stay. Silimalombu village (meaning the 5 cows) was formed by my grandparents. Our family's farm stay is now managed by myself (Ratnauli) and my employees. We farm the natural 300-500 year old mango forest and we grow and make many products on a small scale, mostly for locals. We aim for a sustainable lifestyle, and we're largely self-sufficient. We manage organic permacultural farming, we use solar panels, waste water management and composting.
We envision modelling a return to appreciating and utilizing our land and it's abundant food supply; more sustainable, healthier and cheaper than the processed food commonly favoured.  We look forward to hosting volunteers who want to learn and engage in our farming methods, cooking, nature and community living.
Eating
Since we have an organic plantation that provides a large variety of food, we eat tasty and healthy meals (Western and Indonesian/Batak). We cook together, learning about traditional local methods and ingredients.
Participation
We would like to engage you in the farm's daily life (dependent on the duration of your stay, the season, the garden and other factors):
production of mango wine, vinegar and jam, (some produce is growing year-round; some is harvested 1-2x/year around January and July)
coffee and cacao harvesting and roasting and processing
graviola leaf tea production
help us in the kitchen to learn how we cook, share recipe
Project ideas:
building a treehouse in the mango forest
helping to build a sauna on top of our wood-fired pizza oven
Gardening – fencing, clearing weeds, water supply, farming, fishing, production of mango products
The farm
As well as mango, we grow cacao, coffee, coconut, avocado, durian, soursoup, jackfruit, guava, passionfruit, strawberries, tapioca, onions, eggplant, zucchini, salad, sweet potatoes, mushrooms, lemongrass, citronella, cinnamon, ginger, thallas, cloves and other herbs. We also have water buffalo, pigs, ducks, chickens, dogs, cats, and we fish lobster, tilapia and catfish.
We generally work for the whole day together but have fun while we do it. Official working hours are about 4-6 hours/6 days/week, and we also expect everyone to help out around the house and in the kitchen as well.  We want to have volunteers with open eyes and initiative; if they see that something needs doing, they do it. We want to work as a community with people who are willing to work hard, and who appreciate the beauty, fertility and abundance of our land. We are happy to hear your ideas and visions for how you can contribute to our community. If you are willing to contribute in this way, we are happy to provide you with accommodation and meals in exchange. The location is the beautiful Danau Toba, and the scenery is picturesque. There is plenty of opportunity to enjoy the lake and the local culture also. You can hike up the mountains, swim in the lake and eat fresh fish that I catch from the lake every day. I can help you with Indonesian language and teach you about Lake Toba and Indonesia.
Things to Note
we use water instead of toilet paper (as part of our sustainability practice; if you need it, please bring it with you)
we encourage you to bathe in the lake, as it is the same water we use for washing in the home. If you prefer, you can use bucket washing inside the shared washrooms
there are USB chargers and lights in the rooms; electrical outlets are in the communal areas
WIFI: we have wifi, but we only offer 2 G. We recommend you to buy your own Simcard from Telkomsel or XL. With this you have a 4 G Connection.