Eat the real Burger with 100 % meat from the Wild Pig and with Andaliman Mango Sauce. The bread is baked in the Ecovillage. The Sauces and toppings are fresh and made out of organic resources from the Ecovillage&Partners: Eggs, Mango, Andaliman, Vinegar, Chili, Chayote, Kenikir.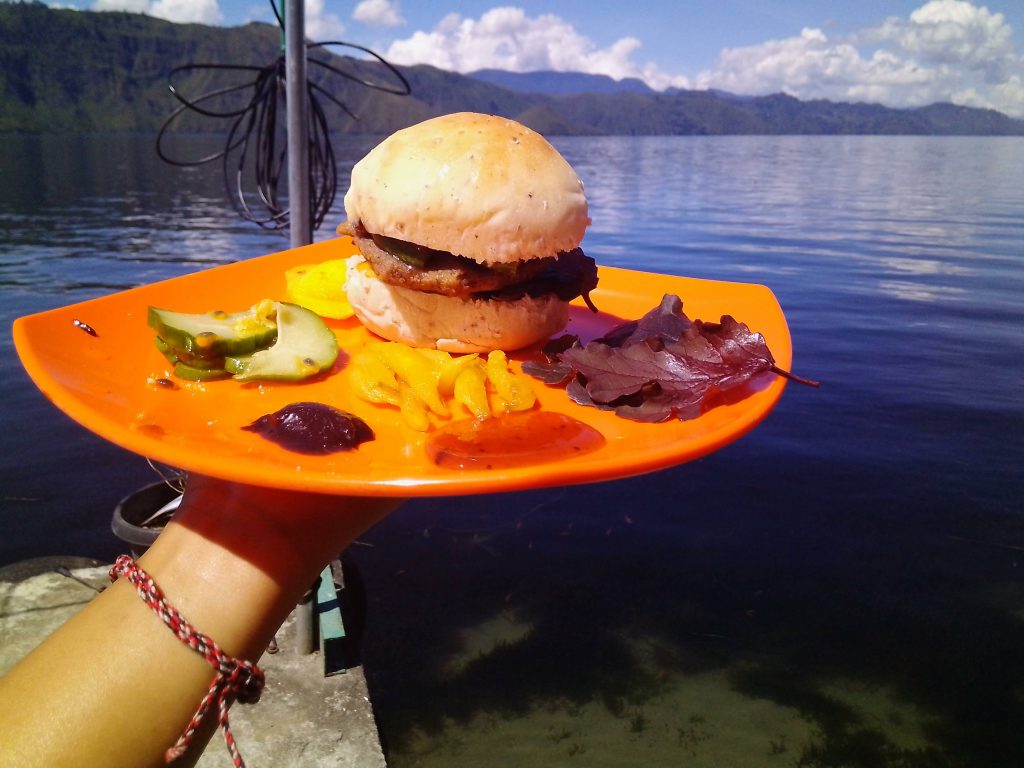 The meat patty is made of 100 % Wild pig. The most came from Aceh. We clean Aceh from the Wild Pig. The people there don't like it in the forest. The Batak and the Chinese and some others like to eat them. A win-win solution. And we will stop to sell it, when the Wild Pig is getting declared to an endangered species. Still some have to remain in the forest. But it should not be so much, that the Wild Pig destroy the farms and the garden of the people in the villages.
We don't use any preservatives or MSG. Everything has the real taste.
The price for this experience is for the introduction period just 15.000
You can add:
Water Buffalo Mozarella from Samosir: 10.000
To create a Double, Triple, Quattro Burger you just add for each Wild Pig burger patty 10.000
To have a piece of egg pie from organic grown ducks you add 2.500
To have an whole fried egg from  our organic gronw ducks you add 7.500
if you have more wishes, then maybe you have to wait.
The AilBurger Restaurant and Takeaway in Silimalombu is open now.
We can deliver to Tuktuk, Ambarita, Tomok for 50.000 Rp. per order or to Parapat/Adjibata for 100.000 Rupiah
Minimum order 150.000 Rp.
Please sent us the order per WA atau Hp to 081260858209