Description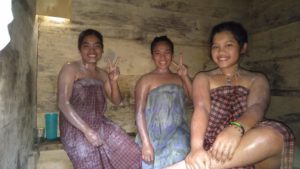 To have a special present for special persons a Voucher for our Sauna is the perfect present. Sweat in our Sauna cabin which is fired from our clay Pizza Oven. We give you the smell of our Citronella in the water, which you can give to the oven.
You don´t need to bring anything else. We give you a sarong and a towel. You can have a shower before and in between and afterwards.
After the Sauna it is nice to jump directly to the cold lake. This is the best for the blood circulation. It cleans your body and your blood.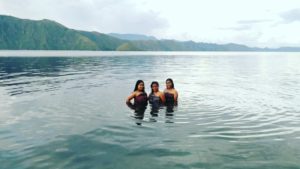 Also we serve you from our herbal teas the tea you like (Rosella, Soursop, Cosmos Caudatus, Moringa, Azolla, Cinamon, Cloves, Wild Coriander……….)
After the Sauna Bath, you can jump to the lake at our private sandy beach on our deck chairs. Or at our terrace.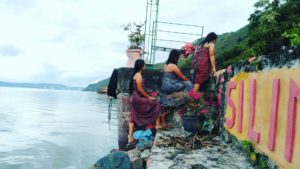 And of course you can go again and again to the Sauna. It is nice to have a whole day for it. A short holiday of one day, which fully relax you. In between, you can sleep or eat or drink. If you want even to stay overnight here, it is also possible. (For a room it is an additional charge). At the main areas, you are invited.
This is all included. Also we offer you  our healthy food from our Botanical garden. We will ask you, what you want to eat and we cook for you and the other people being here. You can look, or even take part at the cooking at our open kitchen. Also we can make you our famous Andaliman Pizza or you make the Pizza then yourself and we bake it in our Pizza Oven for you.
And we give you our homemade Silimalombu Mango Wine to try.
Just enjoy life!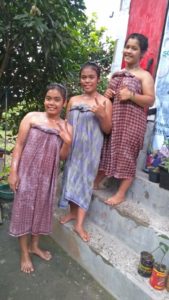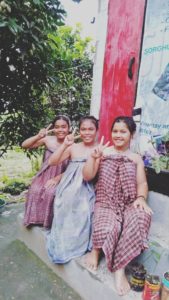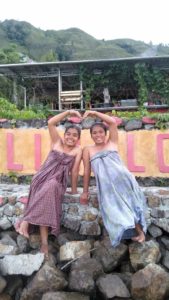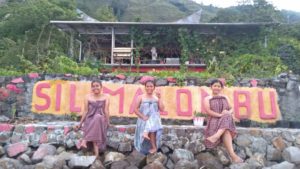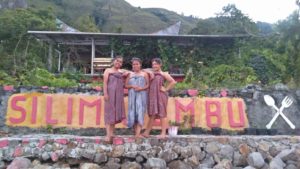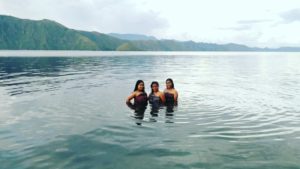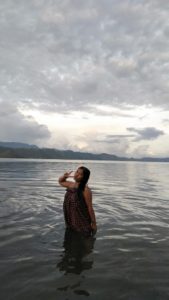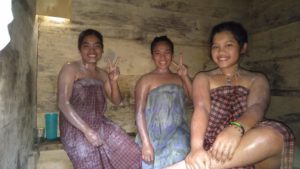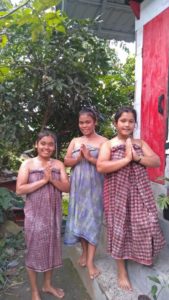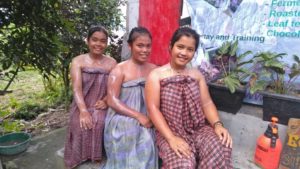 And of course a lot of people like to make selfies at the beach….
All this is included in the price for 100.000 Rupiah, just 6 Euro. How much you have to pay there for this? You go home and you pay maybe 100 Euro.
But still we have Add ons:
Also we offer you a traditional Batak Masssage or a Lymphdrainage or Western Massage. We use as oil or homemade Candlenut oil. For one hour we charge you 100.000 Rp.
We make the things Covid-19 safe for you. The Sauna itself has more then 62  C. The virus will die there alone. Still we disinfect it after each customer with pure alcohol. Also all our toilets are getting disinfected 3 times a day. At the publlic places we wear masks or Face shields. But the risk at our place is also not high, because all the publick places are not inside of rooms.
You can just make a reservation with Whatsapp or phone by +6281260858209 to Ratnauli Gultom or you can send us an Email. 
Or you buy here a Voucher as a gift for somebody, whom you want to give a present. Directly we will send you the Confirmation and then we will prepare you an individual voucher for you. You also can send us in the afterbuy what you want to have written on the voucher. We will put this tho the voucher and will send you the voucher then as an pdf.