Online shopping in our shop is as safe as possible for the transmission of Covid-19. If you want to more about our standards, you can look at our Covid-19 page.  The payment can be done online (transfer, credit card, paypal) and we bring you the things in front of your door in Tuktuk, Tomok, Lontung, Simanindo and Ambarita. To Ajibata we put the products at the boat Martha which arrives at 10am and you can pick up the packed products. And of course still you can pay cash, but look for the right amount of money. We don want to touch it, if we around for a delivery. We go for a delivery with a mask, that you are safe.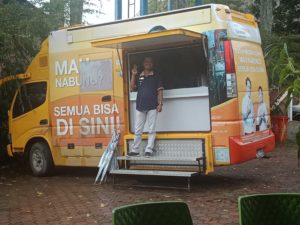 We want to give our customer the possibility to buy our products from all around the world. We deliver the things with the Indonesian post. Abroad we send per Air Parcel. The processing time by us is mostly around two days. The Post take then around 10 working days. If you order something, then we send you a picture, when we give your parcel to the post office, that you see, that the parcel is on the way. A tracking is much more expensive. We are not responsible for import restriction and taxes at your country. please check this yourself!
If you need another payment system, than we offer, than tell us this please.
Now have a successful shopping!